Wooden stairs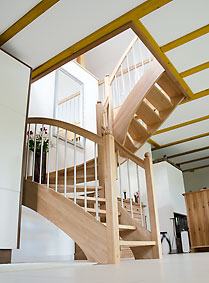 We specialise in manufacturing stairs and doors.
Stairs constitute an integral part of every house. They give it character and influence interior design. That is why details are so important. Currently, our Customers are more eager to choose unique structures which, apart from the characteristic wooden element, include also metal or glass details. Moreover, Customers like unique shapes and finishing offered by us. We will make such shapes for you.
We value elegance and simplicity...
The integrity of form and striving for perfection is most important to us...
See our realizations
We make stairs of the following types
straight,
one-flight stairs,
two-flight stairs,
two-flight stairs with a platform,
with a foot-plate on entrance,
open,
closed,
suspended,
bent,
carpet,
and any other, depending on customers' needs.
Columns designs

P-1


P-2


P-3


P-4


P-5


P-6


P-7


P-8


P-9


P-10


P-11


P-12


P-13


P-14


P-15


P-16


P-17


P-18


P-19


P-20
Balusters designs

SM 1


SM 2


SM 3


SM 4


SM 5


SM 6


SM 7


SM 8


SM 9


SH 1


SH 2


SH 3


SH 4


SH 5


SH 6


SH 7


SH 8


SH 9


SE 1


SE 2


SE 3


SE 4


SE 5


SE 6


SF 1


SF 2


SF 3


SF 4


SF 5


SF 6


SF 7


SF 8
Types of wood used

Natural beech


Blanched beech


Pine


Birchwood


Maple


Ash wood


Brushed ash wood


Smoke-dried ash wood


Oak


Brushed oak


Wenge


Prunus


Merbau