Our possibilities
Recent projects
Best solutions for you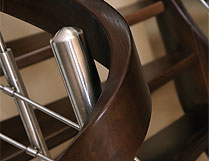 Stairs for your house
Stairs constitute an integral part of every house. They give it character and influence interior design. That is why details are so important. Currently, our Customers are more eager to choose unique structures which, apart from the characteristic wooden element, include also metal or glass details.
Internal and external wooden doors
Our doors are made of full wood (pine, beech, oak, mahogany, maple, ash). Moreover, we are able to combine wood with precious metals and glass. On demand, our doors can be covered with laquer, oil or coloured stain.